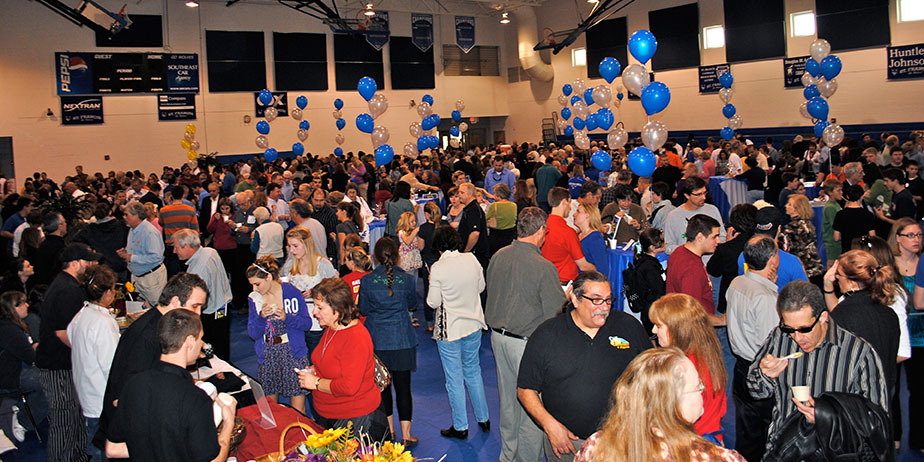 The sixth annual Souper Fun Sunday will be held Jan. 27 in the St. Francis Catholic High School gymnasium.  This soup tasting competition features more than 30 of Gainesville's local restaurants and caterers.  Local celebrity judges, along with more than 1,000 attendees will taste the delicious soups, and awards will be given out for Judges' Choice (first, second and third place,) People's Choice and Best Decorated Table.  Last year, this event raised more than $19,000 for St. Francis.  "Our goal is to do even better than last year and raise over $20,000 this year," said Heather Duiser, St. Francis' Advancement Director.
Previous years' proceeds have gone to the school's technology department. In the fall of 2010, the school was able to kick off a Laptop Program, allowing every freshman to be equipped with a Mac laptop for their four years at St. Francis.  In most classes, the students use laptops every day, taking them home to complete homework assignments and even completing exams electronically. A new class, Computer Applications, was implemented to help the students get acquainted with their new laptops. The program has given students and teachers a great deal of flexibility and provides them with much needed resources at the touch of a button. The school will use the proceeds from the sixth Annual Souper Fun Sunday to continue enhancing technology at St. Francis by purchasing Apple TVs, extending the range of the school network, purchasing licenses to new programs for the laptops and more.
St. Francis emphasizes exceptional Catholic education by utilizing the latest technology to help prepare students for college and the workplace. So grab a bowl of soup and help out the students of St. Francis Catholic High School.