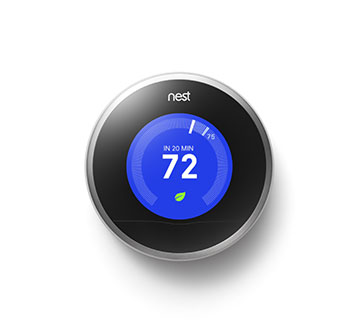 With numerous high-tech gadgets hitting the market each year, you might not think of the ubiquitous thermostat as a popular target for technology and design innovation. This unexciting tech device, currently residing on hallway walls in millions of homes in this country alone, hasn't exactly engaged the minds of technology innovators for… well, what seems like forever.
But Nest Labs of Palo Alto, Calif. is changing that with the Nest Learning Thermostat. The startup is giving home energy a sexy makeover, injecting the household thermostat with a modern, aesthetic boost, plus high-tech software aimed to give everyone a more personalized, energy-efficient home.
Leading the industrial design charge are Tony Fadell and Matt Rogers, who left behind developing iPods and iPhones for Apple to focus their product design talents on taking the traditional thermostat and reimagining it for the 21st century.
Rogers, the company's co-Founder and vice president of engineering, said users of the thermostat begin to see the benefits quickly, up to 20 percent in heating and cooling savings in year one.
Introducing a newfangled thermostat might not be the easiest sell, unlike, say, an iPod. Even with the media hullabaloo surrounding the Nest's debut in 2011, Rogers understands it's all about educating the consumer.
"Our greatest challenge has been getting the word out to more people," said Rogers, who spent much of his youth in Gainesville and calls his former home, 'a great place to grow up.' "It's about driving more awareness."
It's interesting to speculate if the Nest will one day be prevalent in homes across Gainesville, an appealing option for homeowners in the ongoing quest to save on utility bills.
Amy Carpus, a Residential Efficiency Program Coordinator for Gainesville Regional Utility, believes Gainesville is the kind of innovative town that might embrace the Nest sooner rather than later.
"Given the more energy conscious and tech savvy nature of the citizens of Gainesville, I suspect that the time when learning thermostats and other "smart" equipment or appliances are standard may be closer than many think," Carpus said.
On looks alone, the Nest should have no problems enticing customers. Fadell and Roger's Apple pedigree is evident in the round, uncluttered design. The stainless steel ring encases a bright LCD screen display; orange glow when it's heating, blue when it's cooling. Beneath the refined exterior it's equally impressive; Nest is packed with 'smart' features that allow the Wi-Fi enabled thermostat to adjust remotely from a laptop, smart-phone or tablet. It regulates a home's temperature based on a person's daily schedule.
Nest Labs has already released an updated model of their thermostat; the second generation Nest is now 20 percent slimmer, with updated scheduling features.
"What caught my attention with the Nest originally was reading about its design, and the way it works, on some of the Apple tech blogs," explained Eric Carr, a longtime Gainesville resident. An admitted fan of the latest tech gadgets, Carr said it took only one month of using the Nest to become a believer, already having recommended the device to other homeowners around town.
"The unit looks good and was extremely easy to install," he said.
Carr notes that within a week the Nest had developed a basic understanding of his desired house temperature, adding that the ability to configure the thermostat remotely via computer or iPad is "a nice feature."
But if the Nest isn't compatible with your home, it's useless. This is why the No. 1 question Nest Labs receive is, "Will it work in my house?" It appears they have answered the bell with version two: The new thermostat is compatible with 95 percent of low-voltage heating and cooling systems.
Most thermostats are simple enough to operate, but most people are typically unconcerned with actually programming the device. Adjust up if cold, down if hot – that's it. Here is where the energy bill is affected, and the point where Fadell and Rogers endeavored to simplify the process with their state-of-the-art thermostat—designed to help homeowners lower their energy consumption and save money.
"We have been very happy with the ease of use," Carr said, "and although we haven't had it a full year, we believe it is saving some money in the way it controls the AC."