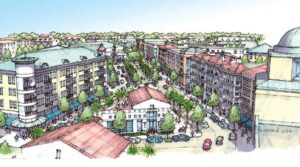 Gainesville has historically been a sleepy college town where it oftentimes seemed time stood still. Sure, there were subtle changes over the years, but Gainesville always changed less than many other parts of Florida. Alumni would come back for a game or a relative's graduation and find much of what they saw when they left. That consistency made Gainesville a special place, but it also meant that, in many ways, we were left behind or disregarded over the years. The outside world never seemed to understand what we really had to offer.
In commercial real estate terms, Gainesville has commonly been referred to by lenders, tenants and corporations as a "tertiary market." That characterization, honestly, always kind of bothered me. Gainesville is where I live, raise my family and own my business—and the word from the outside was that we were a "third-tier" town?  I know we're small, but third-tier? National retailers snubbed us for being too small of a market, stating the demographics didn't support certain concepts. Corporations from the outside usually overlooked us, and firms in town often left once they grew to a certain size. We couldn't seem to get on anyone's radar. What disconnect was preventing the outside world from seeing all the amazing things we saw about life in Gainesville?
The last two years have seen a dramatic paradigm shift in the way Gainesville is perceived. We are on the radar. Major corporations are paying attention.
Venture capitalists are here partnering with our high-tech startups and biotech firms. National retailers are clamoring over sites and backfilling vacancies at record pace. Restaurant concepts are seeking out prime locations and choosing Gainesville as a launching pad to help catapult their brands into other markets. Collectively, it seems, they have all simultaneously woken up to the fact that we are a thriving, university city with major resources for research and development. We have an outstanding, highly educated workforce; we have a stable economy with our foundation of UF and Shands; and we have an unmatched quality of life.
There are five proposed commercial projects with the greatest opportunity to capitalize on this new momentum and literally transform our community over the next several years. These are all large-scale projects that have been years in the making and will take years to complete.
1 Butler Plaza Expansion
It is hard to believe there is developable land of any scale located in the heart of the largest retail corridor in Gainesville. Butler Plaza already consists of more than 1 million square feet, and is home to several major retailers like Lowe's, Target, Publix, Best Buy, Old Navy and Office Max. The Butler Plaza expansion seeks to double that square footage and include a town center concept, as well as additional space for large retailers. Butler Enterprises is aggressively seeking development approvals from the City of Gainesville. Large infrastructure and transit-related upgrades will likely be requirements of the project.
2 Innovation Square
Located walking distance from the University of Florida and downtown Gainesville, the core of Innovation Square sits on the site formerly occupied by Alachua General Hospital. Innovation Square is a true public-private development between UF-related entities and private developers like Trimark Properties, which will break ground later this year on a 150,000-square-foot, high-tech office building. The square already includes the Innovation Hub, a business incubator and home to UF's Office of Technology and Licensing, as well as dozens of high-tech and lab startups. Innovation Square received national acclaim (and a visit from our Governor) when MindTree, an international software company, chose Gainesville as the location for its southeastern development center. Over the next several years, it will employ several hundred people in Innovation Square. Upon completion, the square will include several million square feet of "class A" office space, retail, restaurants and multi-family housing units.
3 Springhills
In 2006, Pennsylvania Real Estate Investment Trust (PREIT) acquired more than 500 acres located across all four quadrants of the I-75 and 39th Avenue interchange. Since that time, there have been several starts and stops, but PREIT is now full steam ahead in its development approval process with Alachua County. PREIT has received Preliminary Development Plan approval and is currently seeking site plan approval. This project will be developed in conjunction with the adjacent property owned by Santa Fe HealthCare. Springhills could eventually accommodate up to 1.4 million square feet of retail and commercial space, as well as up to 3,500 single family and multi-family dwelling units. This project creates a unique opportunity due to its highway access, as well as the separation from existing retail hubs on Archer Road and Newberry Road. This separation could allow for the duplication of some retail uses, while providing opportunity for new uses.
4 Plum Creek
With its roots in the timber business and through a series of acquisitions including Georgia Pacific, Plum Creek is the largest land owner in the State of Florida and Alachua County. Its Alachua County holdings exceed 65,000 acres primarily east of Newnan's Lake, which is located just east of downtown Gainesville. Through its Envision Alachua initiative, Plum Creek's citizen task force is formulating a plan to place thousands of acres into conservation, while preserving development rights for a portion of their property.  Due to the scale of Plum Creek's holdings, it is poised to capture large, corporate users seeking campus-style settings for research and development or corporate headquarters. The company also has significant holdings in Lake City and has recently announced a partnership agreement with the Rockefeller Group to develop 2,600 acres located in a warehouse/distribution park.
5 University Corners
We've all driven past the corner of University Avenue and SW 13th Street over the last few years and wondered if it would ever be anything but a patch of green grass. Well, it appears things are finally moving again. The original developer has teamed with the Swerdlow Group from Miami, and they are seeking site plan approval for a hotel, student housing, retail space and a parking structure. The development team is seeking to regain some of the tax incentives that were a part of its original approvals, and it has scaled back the original design somewhat. The project stands to reshape a major intersection that is one of the most significant gateways into downtown Gainesville and the University of Florida.
There are several market-related factors that will determine the ultimate timing and outcome of all these (and other) projects that are currently being contemplated. It's exciting to see the interest in Gainesville from major players like the ones pioneering these projects. Many of these groups would not have considered a project in Gainesville five or 10 years ago. It's good to finally be on their radar.
---
Nick Banks is the managing director of Front Street Commercial Real Estate Group, a full-service firm located in Gainesville offering brokerage, management and mortgage banking services for commercial real estate clients. Nick is a 17-year vetaran of commercial real estate and a graduate of the University of Florida. www.frontstreet.net